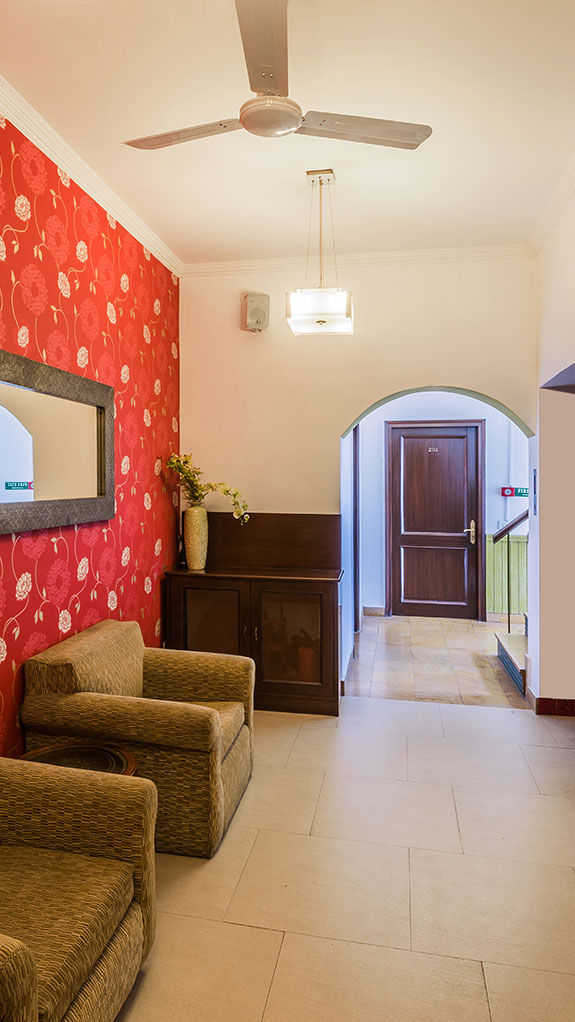 OUR HOTELS NEAR APOLLO HOSPITAL, KAILASH COLONY, NHI, NEW DELHI
Location
Welcome to Home@F37
F-37 East of Kailash, New Delhi - 110065
Telephone :
+91 11 46690200
Email :
info.home@f37.in
Finding us is a breeze; Home@f37 is located strategically in the heart of South Delhi in East of Kailash, tree lined 80 feet wide street. We provide easy access to Nehru Place, the commercial hub of South Delhi, which is 2 km away. Well known Restaurants and shops of Greater Kailash market are at a distance of only 1 km. Lotus temple and Hare Rama Hare Krishna temple are also a mere 5 minute taxi ride from the hotel. Whether you're seeking an affordable hotel near Escorts Heart Institute, the National Heart Institute, or the hotels near Apollo Hospital New Delhi, our hotel is the perfect choice.
---
Metro Station
You can conveniently visit us, If you are searching hotels near Kailash colony metro station. The metro on Line 6 is only 200 metres away. It's just a short walk from our hotel, allowing you to explore the city effortlessly and reach your desired destinations in no time.
---
Railway station
Home@f37 is strategically located with easy access to the New Delhi railway station. We are conveniently situated just 9 km away from the New Delhi railway station, making it a convenient choice for travellers arriving by train. Additionally, the Nizamuddin railway station is only 4 km away.
---
Airport
You can enjoy a prime location just 12 km from the domestic terminal (Terminal 1) of Indira Gandhi International Airport. For international travellers, the hotel is conveniently situated only 15 km away from the international terminal (Terminal 2). Guests can enjoy a hassle-free commute and spend more time exploring the city.
---
Hospitals
If you're visiting Apollo Hospital, Our proximity to this esteemed medical facility ensures convenience and peace of mind during your stay at our hotels near Apollo hospital New Delhi. Similarly, the cheap hotels near National Heart Institute and Escorts Heart Institute are within a short distance, making us an ideal choice for those seeking accommodation near national heart institute nearby. All India Institute of Medical Sciences (AIIMS) are all in a radius of 6 km while Moolchand Hospital is only 2 km away. Shroff Eye centre is 500 metres away.
---
Pragati maidan (ITPO)
Pragati Maidan stands as Delhi's largest exhibition centre. Located just 7 km away from our hotel, it Makes it convenient for our guests to attend and explore various exhibitions and events hosted there.
Book your stay with our best low price hotel in Delhi today and enjoy the convenience of staying near renowned medical institutions, easily accessible transportation, and a comfortable retreat after a busy day exploring the vibrant city of New Delhi.